Before entering into main topic of this blog, I am going to take a paragraph to give overview of Agile and Waterfall software development methodology. In waterfall model, project sponsor / business partner comes at the beginning of project gives the requirements and leaves. When product is finally ready, he comes and review the changes. Most of the times, review shows some gaps and firefighting exercise starts to fix the problem. In Agile model, project sponsor / business partner is involved in the project throughout its life cycle. Rather than building complete product in one go, parts are being developed and showed to business partner for their review. This approach provides more communication between project execution team and its most important stakeholder. This provides a constant feedback loop to ensure a better product is developed.
In any Democracy, citizens of the country play role of business partner and they are the most important stakeholder. Their taxes provide funding / budget for all the projects Government undertakes. People essentially hire Government of the day by voting for candidates. This voting is done based on the campaign promises, previous track record and circumstances of the day. People vote to select best possible person for the job. This applies to all elections. In India, due to federal structure, there are different civic bodies involved. All these civic bodies follow their own election cycles. A quick glance at Wikipedia, shows following picture.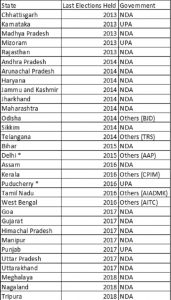 Couple of weeks ago, 3 North Eastern states concluded their election and have a Government set for 5 years. There are 5 more elections in pipeline this year (2018). In 2019, apart from General Election to elect Central / Federal Government, there are assembly elections in 9 different states. In 2020, there are elections scheduled in 2 states, 2021 has 4 and 2022 has 7 elections. Due to election cycle taking place every year, Government of the day faces test at periodic interval and gets feedback from people. This is classic example of Agile!
This Agile methodology elections give parties a good opportunity to connect with voters and understand situation on the ground. This is a good feedback loop for politicians to learn what's working, what needs to change and what's going wrong. This input is vital for any political party to win election after election. Even though, most state assembly elections are fought on local issues, vested interest in media somehow turn them into a referendum on Prime Minister Modi's Central Government. Here are some of the lessons that I have learned based on election results in last year or so –
In Goa, Congress won 17 out of 40 seats and is single largest party. It needed support of 4 additional candidates. It failed to form the Government as it couldn't react quickly to gather allies. Party infighting for Chief Minister's post created problems. This infighting and slow reaction by "High Command" resulted in Congress as Opposition party. Lesson one can learn is to manage the team and address personal aspirations. But that doesn't fit culture of family ruled party.
During 2018 election cycle; in Meghalaya, Congress is again largest party. However, it failed to form the Government again. To its credit, Congress "High Command" reacted bit quickly and sent representatives to negotiate with allies. But it didn't give desired results.
In run up to Punjab assembly elections, there was lot of media propaganda about Drugs problem in media. Even Bollywood decided to make a movie about it. After election, media and Bollywood are quiet about the issue. The drug problem is still there, but everybody has forgotten about it. Bollywood is likely to play a role in all future elections for sure.
UP is largest state in country. Some people argue, this fits in too big to fail category. There have been demands in past to split this in smaller states for better governance. BJP leadership knew importance of these elections. They spent all their energy and resources on these. These were first set of elections held after ban on high currency notes that caused considerable pain to people. But BJP managed to win this election comfortably on back of multiple factors. It was considered litmus test for Modi Government as elections were held at close to mid-point of its 5-year term. Campaign around pro-growth, fight against corruption, welfare schemes of central government, some issues like Triple Talaq bill and most importantly bad governance of previous government helped BJP to an unprecedent victory. BJP learned its lesson and continued good work in the state. It has installed a strong Chief Minister who is addressing problems state has faced over the years. BJP knows UP holds key to re-election of Prime Minister Modi.
BJP's victory of CPI in Tripura elections would have pleased Amit Shah a lot. He has won election after election. But this one was special. In a head on contest between Left and Right, Right triumphed big time. BJP was a very small player during 2013 elections but the way they gained ground is a lesson in organization building exercise. It would feature in case studies in years to come.
NDA's good performance in North East is down to brilliant Himanta Biswa Sarma. He is a great talent. Congress letting him go is a lesson in itself on why grand old party is struggling. He would be assuming much bigger role in years to come for sure. BJP has learned a bit from past mistakes and started to nurture talent for future….
During 2015 Bihar elections, Congress Party bought arch rivals Nitish Kumar and Lalu Prasad Yadav together. This grand alliance won state comfortably and kept BJP out of power (since then there has been a break-up and Nitish Kumar is back with BJP). This week's Bypoll elections arch-rivals SP and BSP came together to defeat BJP. Couple of days ago, Sonia Gandhi hosted all "like minded" opposition parties for a dinner. Congress is slowly putting together an alliance to take on BJP. This has worked in some cases. If this would be successful in 2019 or not remains to be seen.
During Gujrat elections ugly cast politics raised its head again. Congress teamed up with local agitators and formed a cast collation to take on BJP in Prime Minister's home state. BJP managed to save the day. But it has raised some red flags. Cast equations and reservation promises could play a role in 2019 elections. There have been some noises about reservation in private sectors. If any political party promises them or not remains to be seen.
Rahul Gandhi's on and off political career has raised more questions than provided answers. He at best is reluctant politician. His style of leadership very unlikely to revive Congress Party. So, who would lead charge against BJP and Prime Minister Modi remains to be seen. Media has tried to project different regional leaders as a challenger to Prime Minister Modi. But those fantasies have not been fulfilled yet.
Prime Minister Modi remains most popular individual leader by some distance. Had India been a Presidential Democracy, victory in 2019 elections would have been a cakewalk for him. But due to Parliamentary nature, he and his team need to pull their socks up and start working towards re-election in 2019. He still is favourite to win them. Some of BJP's allies are getting worried about their own future. Shiv Sena has been constantly trying to create problems. It has not left the alliance. BJP may need allies and they need to have good equation with them.
Ladies and Gentlemen, fasten your seat belts, we're set for a good contest for sure!